A typical question that is asked in our Customer Care area often centers on how to choose from all the options in material, processes and enhancements to design their nameplate. If you are nodding your head, feeling overwhelmed and not sure where to start or that you are going about things the right way, you are not alone.
The good news? There is no right way - your branding needs are open to the imagination. Start with the basics and then stay open to options and look for opportunity to stand out in the market.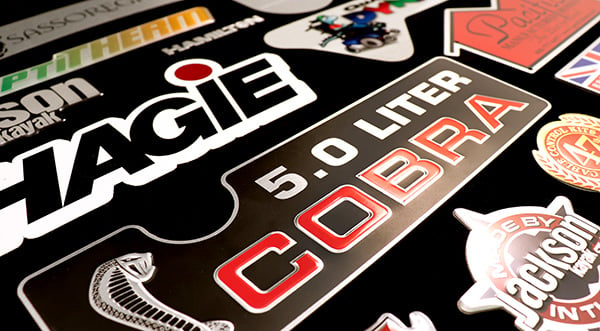 3 Basic Questions for Nameplate Design
No matter if we are talking about a basic and functional identification tag or a more complex and decorative nameplate to build brand awareness, basic questions will come up centered on material, size and budget. Decide on the purpose for the nameplate or label and then consider these questions:
1. What type of material should you use? The most common metal used for nameplates, ID Plates and badges is aluminum since it is lightweight and recyclable. Other metals like brass or stainless steel can be used depending on the type of application. Lightweight flexible plastic materials can be reviewed as well, especially if backlit graphics or functional buttons are needed.
2. What size and shape will the nameplate be? No matter if your product needs an aluminum nameplate or a polycarbonate overlay, the shape of the branding matters. The options are open and it is not necessary to feel trapped by standards. You can design an emblem to follow common shapes; or step out of the box by using the shape to draw attention, stand out from the crowd and enhance the product design.
3. What is your budget? Piece price is a common concern for nameplate and label design. While options are wide open in both metal and plastic material and processes, it is helpful to stay in tune with what your budget will allow. Understanding the objective and environmental needs of the nameplate can help define where the piece price will fall. Piece price will increase as more processes are used.
Get Inspiration from Other Brands
It is common for brand owners to pay attention to how their competitors are branding the products. It can also be helpful to look at other industries and products. What looks good for an exterior identification tag might also work well to grab attention for a nameplate on a consumer electronics product. Maybe it is the color combination or contrast in height for an embossed logo that piques your interest.
Take that inspiration and use it to design a custom nameplate to showcase and elevate your brand. The use of a pattern in the background or a unique shape can be the differentiating factor between an every day, look-like-all-the-others label and a nice eye-catching, holy-cow-what-brand-is-that nameplate that will draw consumers to your product.
It can be helpful to request samples from a supplier before you submit for quote. This allows you to see what an embossed metal badge looks like, or test that the adhesive works with your application. Be specific about what you are looking for in the sample so that the best pick of parts can be provided for your evaluation.
How Can We Help?
Ready for some conversation about your product identification needs and how we can help with an attractive metal nameplate? Over 65 years of experience doing just that means a wealth of inspiration is available to use. Our Customer Care team is ready to work with you!
Related Posts
3 Things to Expect from a Nameplate Design Project
Common Shapes for Nameplates
Metal Nameplate Decoration Options
Brushed Metal Look for Nameplates and Labels
Creative Tips for Effective Product Identification


Originally published Apr 11, 2019, updated January 7, 2021 for clarity and resources