What do you call that thing showing a logo or brand on a product? Ask this question and you'll get a variety of answers including label, sticker, medallion, tag, badge, nameplate. The jargon may be different depending on your product or industry, but their purpose is the same - get noticed and build brand awareness.
Impressive Nameplates = Strong Brand Strategy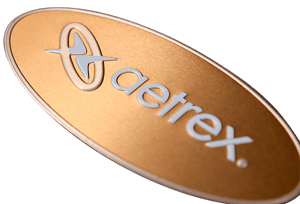 When all is said and done the relationship between you as a brand owner and your customer is built on foundations. A nameplate boosts your brand by clearly communicating the value of your product. Consistency of your image from online, to print, to product floor reinforces your position.
A nameplate is more than just a sticker on a product that shows your logo. It relays feeling and promotes a message. It communicates information, builds credibility, makes you recognizable, and indicates the value of your product. Many times it is the first thing that catches the eye of consumers. An attractive nameplate sends a good message and gives a memorable impression.
Metal Nameplate Options
Metal is a durable material suitable for product identification across all markets, including consumer electronics, medical devices, or sporting equipment.
Aluminum - metal of choice for durable, cost effective nameplates, badges, and product labeling. It can take on the appearance of other metals like brass or stainless steel by applying transparent tints of color to the surface.

Stainless Steel - popular substrate for product identification in indoor or outdoor applications, usually within harsh environments. It is corrosive and dent resistant. Its strength makes stainless steel ideal for industrial settings and applications.
Product Differentiation with Impressive Nameplates
Every product in the market needs a way to stand out, make a mark, showcase a company logo and build brand awareness. One of the ways to differentiate is with an impressive nameplate.
Metal nameplates and badges can be dressed up by adding a hint of color for contrast, using a screened texture for dimension or incorporating a pattern into an area for accent. These options provide flexibility in creating a unique look that enhances nameplate design.
How Can We Help?
Custom metal nameplates reinforce a brand strategy, get noticed in the market, and stand out from the competition. OEMs in every industry from automotive and recreational equipment to restaurant equipment and truck boxes trust us for quality product identification. We can help you, too.
Related Posts
Embossed Metal Nameplates Explained
Basic Tool Information for Metal Nameplates and Badges
3 Ways to Dress Up Metal Nameplates to Increase Brand Awareness
One-Stop Shop for Product Identification
Is a Nameplate Really Important: Yes! Here's Why