A new year brings opportunities. With those new opportunities, it often helps to take a look back. It is no surprise for the following posts from last year to be most popular with topics including reviews of processing options like embossing and variable data, attachment options, and proper application of nameplates and labels with adhesive. Along with relevant posts like these, we also published several resources in the form of free downloadable eBooks.

Durable Fence Signage - Fence signage is an extremely effective and economical way to advertise your company. Review options for metal fence signs including common sizes and colors.

High Heat Exposed Embossed Aluminum Badge - Exposure to environments with high heat and exterior applications is a common scenario for metal badges.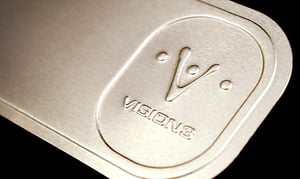 Embossed Metal Nameplates Explained - Embossed aluminum is a classic option which adds perceived value to a nameplate or badge. It is a permanent method of marking that adds dimension. Text, logos, and patterns can be embossed into metal.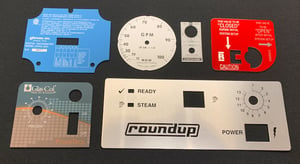 3 Types of Hole Options for Metal Nameplates and Plastic Overlays - Reviews the types of holes or piercings that can be reviewed for both industrial metal nameplates and functional plastic overlays. Size and shape are wide open, with the most common being circles or squares.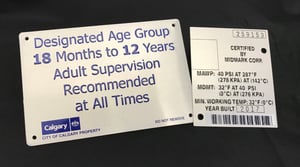 Permanent Embossed Text for Metal Information Plates - Embossing graphics or logos in metal nameplates is a great way to add dimension and focus to the brand. This enhancement is a permanent way to ensure that important text is featured and stands out for metal information tags.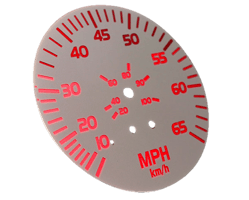 Lighted Graphic Options for Polycarbonate Gauges and Overlays - Lighted graphics can simply appear only when a light source is applied - also known as dead front graphics. They also can be designated as backlit graphics so that when a product or vehicle is powered on, the graphics glow.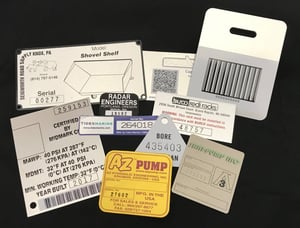 High Impact Variable Data Options for Metal Nameplates and Plastic Labels - Serial-numbered labels and other variable data graphics or codes can be produced on both metal and plastic substrates. These can be combined with other processes like embossing or doming to further enhance the impact of the label.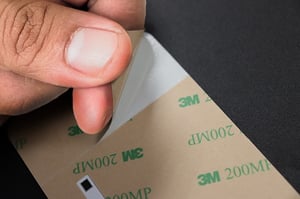 5 Tips for Storing and Applying Nameplates with Pressure Sensitive Adhesive - Pressure sensitive adhesive is one of the most common attachment solutions for product identification. Review practical tips for storage and applying nameplates or labels with this type of adhesive.

Weather Considerations for Nameplates and Labels - Extreme temperature and exposure to the elements like sun, rain or snow can be a big factor in protection and processes used for effective product identification.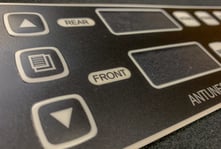 Embossed Buttons on Polycarbonate Graphic Overlays - Embossing is not just for metal nameplates. Graphic overlays often incorporate embossed buttons for easy operation of equipment.
How Can We Help?
Product identification is a loose description of the products offered at McLoone. No matter if you are just starting out with a basic equipment data plate, or looking for a decorative nameplate to showcase your brand, we can help identify a cost effective solution. Share your project goals with us and let's get things started.