When is it right to use a pattern in nameplate design? This is a question that can come up for any nameplate. The use of patterns typically comes from a desire to draw attention to the brand. There are other reasons to include a pattern or finish, and we will cover them below.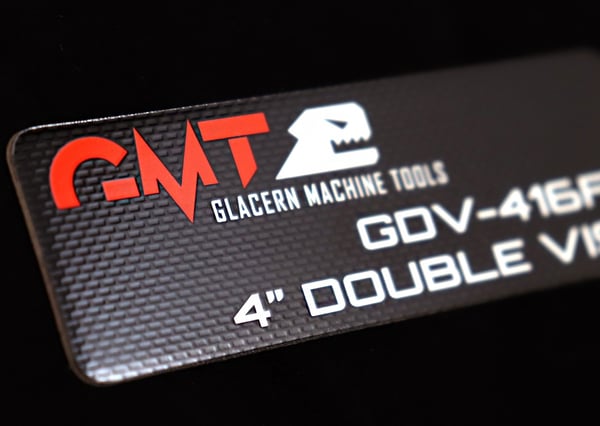 What are Patterns?
Patterns, custom colors and special effects are attractive and effective elements to make your brand stand out by decorating the metal surface of your nameplate. These options provide flexibility in creating a unique look.
The possibilities are endless when you consider all the different ways that metal surfaces can be decorated. From precise technical patterns to woven carbon fiber structures, whatever look you are striving for can be reviewed.
Reasons to Use Patterns
Patterns and finishes add interest to product branding. Options include technical metal finishes, attractive faux finishes as well as attention grabbing surface decoration with contrasting gloss levels or metallic inks.
Differentiate your brand to stand out in the market. An attractive pattern can be just the right eye-catching element that makes your product the one that gets attention versus a plainly decorated one on the shelf.

Create contrast to make an impact. A metallic finish combined with bright graphics or border are common requests for a two-tone look.

Add interest to an otherwise ordinary background area of a metal badge. It's all about grabbing attention and this is one way to do that.

Increase the perceived value of the product. A custom pattern adds premium look to a nameplate which can translate to higher price points.
Common Places and Products that Feature Nameplates and Badges with Patterns
Outdoor sporting equipment

Rugged tool boxes

Protective cases

Automotive badges

Promotional products such as invitations, announcements, commemorative binder plaques, and tip-on plaques

Point of purchase displays
How Can We Help?
Ready to review options for patterns to enhance your nameplate? Our Customer Care team will work with you to identify effective solutions that will take your brand to the next level.
Related Posts
3 Ways to Dress Up Metal Nameplates
Background Finish Adds Interest for POP Display
Technical Finishes on Metal Surfaces Enhance Nameplate Design