Plastic is a flexible material suitable for product identification across many markets. It can also be used on products exposed to harsh environments including sunlight/UV rays, hot or cold climates, and exposure to chemicals or cleaning products.
This post reviews the common plastic substrates offered for product identification in applications from branding decals and labels, graphic overlays and panels as well as information and safety labels. Choosing the right plastic will be dependent on the specific requirements for the product.
Polycarbonate
Polycarbonate (also known as LEXAN®) is an economical material solution for applications that require functional elements like LED windows or touch controls. The plastic is lightweight which makes it easy to die cut. Food service and medical equipment overlays as well as decorative branding nameplates and safety labels can be found using this plastic substrate.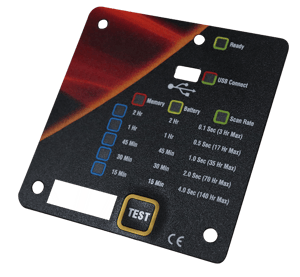 Advantages of Polycarbonate Graphic Overlays and Labels
Graphics and artwork details are applied to the second surface or back side of polycarbonate, resulting in natural protection for the copy and graphics. Polycarbonate is resistant to chemicals, heat and abrasions, making it a material of choice for nearly any indoor equipment and industrial applications. Weatherable options and hard-coated material are available for outdoor exposure.
Decorating Options for Polycarbonate
Full color graphics, clear or transparent color windows and dead front or back lit graphics are all options with this plastic material. Enhancements available for polycarbonate overlays and labels include doming for a jewel or 3D effect and embossing for keypads or graphics. Adhesives can be applied selectively to keep windows and pads free from obstructions.
Polyester
One of the more common label and decal materials offered is Polyester (otherwise referred to as MYLAR®). Labels made from this PET plastic are thin, durable and cost effective for all types of identification needs. Some examples of labels made from polyester include warning or caution labels, product overlays with consumer instructions as well as decorative branding.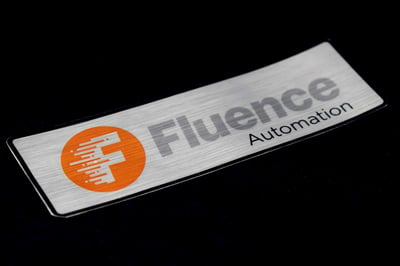 Advantages of Polyester Labels and Decals
Polyester material is thin and lightweight, making it friendly for label and decals. It is resistant to tears and with a laminated clear cover is resistant to exposure to many cleaners or chemicals. A majority of the material is supplied with pressure sensitive adhesive so assembly to the mating surface is as easy as peel and stick.
Decorating Options for Polyester
Polyester labels are available in clear, white and silver with high gloss or matte finishes. Mylar® can also give the look of brushed metal for labels. Imprintable and reflective material can also be reviewed. Enhancements to graphics include embossing and doming which result in dimension. Variable data such as bar codes, QR codes, and serial numbers for inventory control and communicating product information are also available.
Vinyl
Vinyl is a material of choice for caution and warning labels due to its flexible nature and relatively low price point. It can also be used for asset or inventory tags and point of purchase display branding.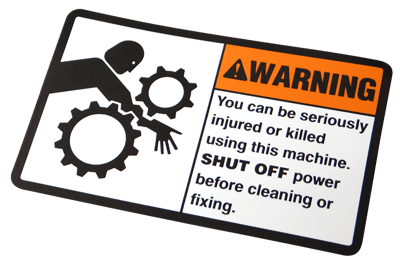 Advantages of Using Vinyl for Decals
Vinyl is cost effective and durable for everyday decal needs. It is lightweight, tear-resistant and flexible. It should be noted that vinyl is less resistant to chemicals than other plastic substrates. If an exterior application is intended, additional over-laminating processing may be recommended
Decorating Options for Vinyl
Similar to Polyester, vinyl is friendly for screen and digital printing processes. Full color graphics or basic one color text can be achieved. Enhancements include doming and variable data printing.
Diverse Plastic Material Options
From warning labels and ID plates to attention grabbing labels or functional overlays, all your product identification needs are met with diverse plastic options from a single source. While this post has outlined the most common materials offered, other types of plastic can be reviewed on a case by case scenario.
How Can we Help?
A variety of plastic material is just some of a diverse stock of substrate options, giving the flexibility to work with most product specifications. And if you're starting without specs, our team will work to create unique and durable solutions that will hold up in real-world conditions. Need help identifying the right substrate for your application? Our Customer Care team is ready to review and work with you.
Related Posts and Resources
Customized Durable Safety Labels eBook
Embossing on Plastic Material eBook
When is Polycarbonate a Good Choice for Overlays and Labels
Advantages of Polyester Labels
Differentiate Your Brand with QR Codes
Durable Vinyl Decals for Everyday Branding