A standard element of nameplate and label design is how to attach to the mating surface. After all, the nicest looking nameplate does no good if it will not stay in place on the product. While there are effective solutions using rivets or screws, one of the most common ways to place a nameplate or label is with pressure sensitive adhesive.
Choosing the appropriate adhesive for your nameplate, label or badge takes careful consideration of the type of surface along with environmental factors. Exterior applications, exposure to certain chemicals or uneven surfaces can become a challenge for a robust bond.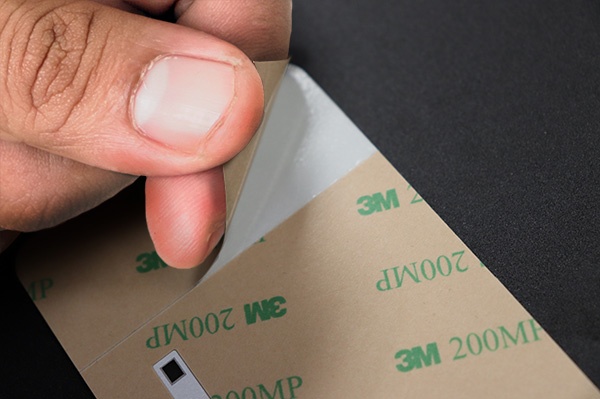 Adhesive Options for Nameplates and Labels

Recommendation for the appropriate adhesive is made based on the substrate the nameplate is applied to, taking into consideration any environmental exposure and the specific guidelines the bond needs to meet. A wide range of adhesives are available in nameplate and label manufacturing.
Pressure Sensitive Adhesive
Pressure sensitive adhesive is supplied with a liner that is peeled off before placing the part onto the product. This type of adhesive can be applied overall or in selective areas. This is great for transparent windows and embossed buttons on plastic overlays or to fill a gap between a formed metal badge and the mating surface. It is also a standard for flat surfaces.
Foam Adhesive
Uneven surfaces can be an issue when determining an adhesive. Foam adhesive eliminates any ridges, leaving a flat bonding surface. This helps confirm a secure bond.
Foam adhesive can be used to fill up the space on the back side of a metal badge that has a formed over edge. The thickness of the adhesive will be determined by the depth of the draw or wiped over edge and by your specifications for how high the badge should sit up from the mating surface.
Heat-Activated Adhesive
Heat activated adhesive is a thermo-bond option with high bond strength and long-term durability. It uses heat and pressure to bond a nameplate to the surface of the product. This solution is typically reserved for review with high volume applications assembled to molded components. It does require a heat source to achieve the bond.
How Can We Help?
Applications using adhesive are diverse. Metal nameplates and badges as well as plastic graphic overlays and decals commonly spec out an adhesive for secure attachment. Need help to determine the best solution for your product identification? We have a team of people with years of experience ready to review. Common specifications call for the 3M brand, but equivalent alternatives can be identified as well.