A company's core values set the tone of their relationships with their customers, stakeholders, and the market. One of the values that is embodied within McLoone is centered on a work together concept. This means that each person is part of a team, placing the importance of success as a team. I would venture to say that this year has tested personal and professional abilities - not just for us at McLoone, but across the globe. We are all craving togetherness, connections with our loved ones, and being able to be present with one another.
Working Together While Working Apart
The concept for this year's Holiday card is based on celebrating the successes realized by working together in this highly unpredictable and unprecedented year. Production in our manufacturing facility has not stopped, which means that our customers have been able to rely on orders continuing. Wherever possible, we have been able to transition to virtual connections with internal teams as well as servicing our customers. Our relationships with customers as a trusted supplier of high quality product identification, ID plates, custom nameplates, labels and graphic overlays are important. We value each one and look forward to continuing working together in the coming year.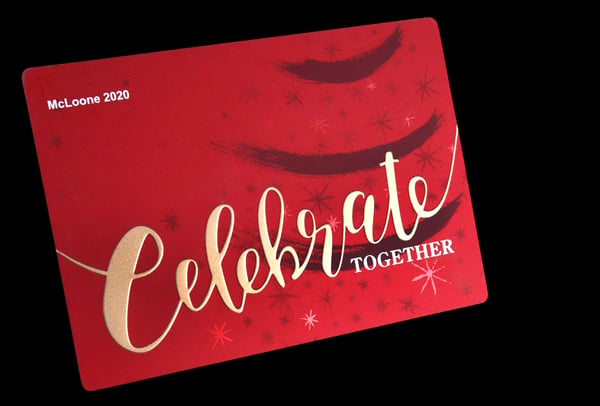 Contrasting Gloss and Colors Draw Attention
The 2020 Holiday card is made from bright aluminum decorated with rich red tones in the background. Glistening star details with contrasting gloss and transparency appear to dance across the background, changing with the light depending on the viewed angle.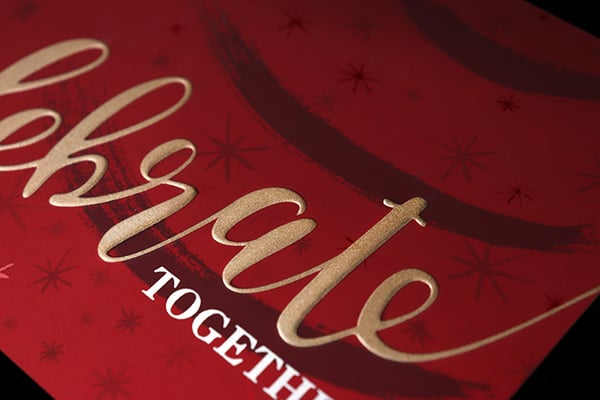 Embossed Graphic Adds Dimension
Embossing is one design element that shows emphasis and importance. The word "Celebrate" is the emphasis on this year's card. The script text is further defined with a rich metallic gold color. The ending result is a highly elegant design that should invoke feelings of accomplishment and, indeed, celebration.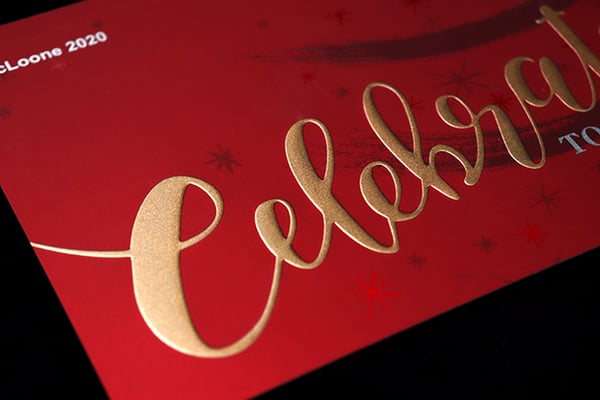 From all of us at McLoone - We wish you a joyful Holiday Season and a New Year filled with peace and prosperity.
How Can We Help?
Looking for a reliable partner in your supply chain? We aim to make a positive impact with each interaction and relationship that is built. Working together is not just something that is posted on our walls and website, it is something that we live day in and day out. Contact us with your needs and let's explore how we can work together for your successful product identification.
Related Posts
Is It Worth It to Emboss Nameplates and Labels?
How Patterns Help Nameplate Design
Contrasting Gloss Elevates the Perceived Value for Metal Nameplate
3 Simple Ways to Differentiate Your Nameplate
Luxurious Jewel Tones on Metal