When a metal nameplate is requiring anodizing, it typically is for hardening or sealing the surface. Certain applications will necessitate the chemical process. When this is the case, there are limitations to tooling optoins - embossing or forming metal after anodizing can result in crazing or cracking of the protective seal. There is a way to get the look of anodizing without sacrificing tooling options.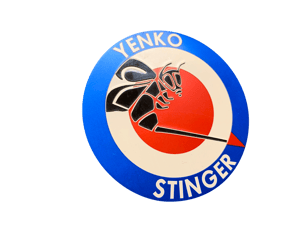 This embossed aluminum badge is a great example. The transparent blue and red colors play with the light so that the metal is reflected through. These colors are elegant on their own. However, incorporating a matte finish results in a satin feel and the anodized appearance. For this part, it speaks to the high performance automotive vehicle that the graphic portrays. Contrasting with the matte background is the embossed and high gloss black graphic. It is quite impressive and certainly elevates the brand.
Color development is one of the fun parts of playing with nameplate design. The possibilities are so open. Your basic color can be brought to life with changing gloss or moving from a color that is opaque and flat to one that is transparent and vibrant. It's all up to your imagination!
How Can We Help?
Custom color development is just one of the value-added services offered to our customers. Once you have defined your target color with the required substrate, we take over to develop a custom formula to match the specs. The formula is kept on file along with your review of acceptable variances to ensure consistency from run to run. We'll help you identify the right color for your product identification needs.
Related Posts
Luxurious Jewel Tones with Transparent Colors on Metal
Custom Color Considerations for Product Identification
Defining Gloss Levels for Nameplates
Does Color Matter for Nameplates and Labels? Yes and No