When it comes to making a decision on the look for your product identification it can be more complicated than simply reviewing an electronic proof or similar samples. Many times there are vendor approvals from multiple teams that are needed before supply chains can be updated or adjusted. It is important to work with a supplier who can accommodate your needs with pre-production prototypes.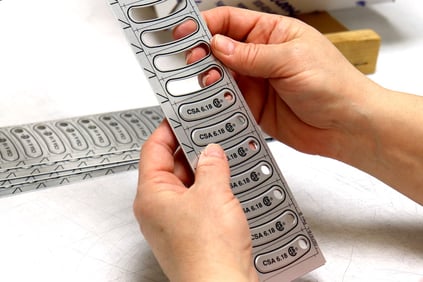 Reasons that it may be necessary for nameplate or label prototypes include:
Fit and Function - Nameplates that are designed for placement into a recessed area or take on the shape of a product can be evaluated for proper fit.

Aesthetic Review - From custom color matching or review of surface decoration to comparison between substrate materials, the look of the nameplate or emblem is important.

Quality Requirements - Certain applications and customers will need to have first article evaluation before the production run is kicked off. We are prepared and ready to work with you for the required paperwork and quality reports to keep your product launch moving.

Testing Samples - From confirmation of adhesive for attachment to exposure to specific chemicals, it is beneficial to be able to order prototype quantities of your nameplate before releasing to production.
Production quality prototypes and samples allow you to fine tune designs and ensure the right look for your nameplate, label or overlay. Take care to ensure the supplier of choice can handle your specific needs.
How Can We Help?
Ready to get the ball going and decide on the best supplier for your branding needs? We have a team of people ready to help and guide you through the best solution for evaluating options for your product identification. We will work with you to ensure you get the right type of prototype to help solidify your decision.
Related Posts
Common Metal Nameplate Attachment Options
Durable Labels Supplied in Kits Reduce Cost
Enhance Nameplate Design with Background Patterns