Designing a nameplate to support your brand, showcase your logo, or relay important information is no small task. This can be an element of product design that is left to the end stages of bringing that product to market. Effective nameplate design centers on communication - with your team, your supplier, and your target market.
Communication with Your Team = Understanding of Expectations
Throughout the process of nameplate design, decision making will be required to move the project forward. Artwork proofs, color chips or pre-production prototypes are all potential items which will need agreement and sign-off to move forward. No matter if you are the engineer, product designer, or buyer - be sure that clear expectations are understood on the objective and look of your nameplate or label. Things to be on the same page about include:
What material is the nameplate or label needed to be made from? The most common metal used for nameplates, ID Plates and badges is aluminum since it is lightweight and recyclable. Other metals like brass or stainless steel can be used depending on the type of application. Lightweight flexible plastic materials can be reviewed as well, especially if backlit graphics or functional buttons are needed.

What size and shape is it? Many logos offer clear indication for the shape that is best used when translated into decals or emblems. When the shape is not obvious, use the product design to help define what the nameplate or label will look like. Where the emblem is placed can provide the dimensions and narrow down the choices.

How will the nameplate attach to your product? Deciding how to attach your nameplate will depend on your specific application. Many times the answer is simply a peel and stick adhesive or to pierce holes which allow for assembly with rivets or screws. The type of mating surface and environmental exposure can be factors in determining the best solution.

Are there requirements for pre-production or first article samples that are needed? Production quality prototypes and samples allow you to fine tune designs and ensure the right look for your nameplate, label or overlay.
Additionally, it is helpful to understand what your order frequency and requirements will look like. Taking the time to gather necessary information for the specs of a nameplate along with reviewing your pricing and timing needs make for a more streamlined order process.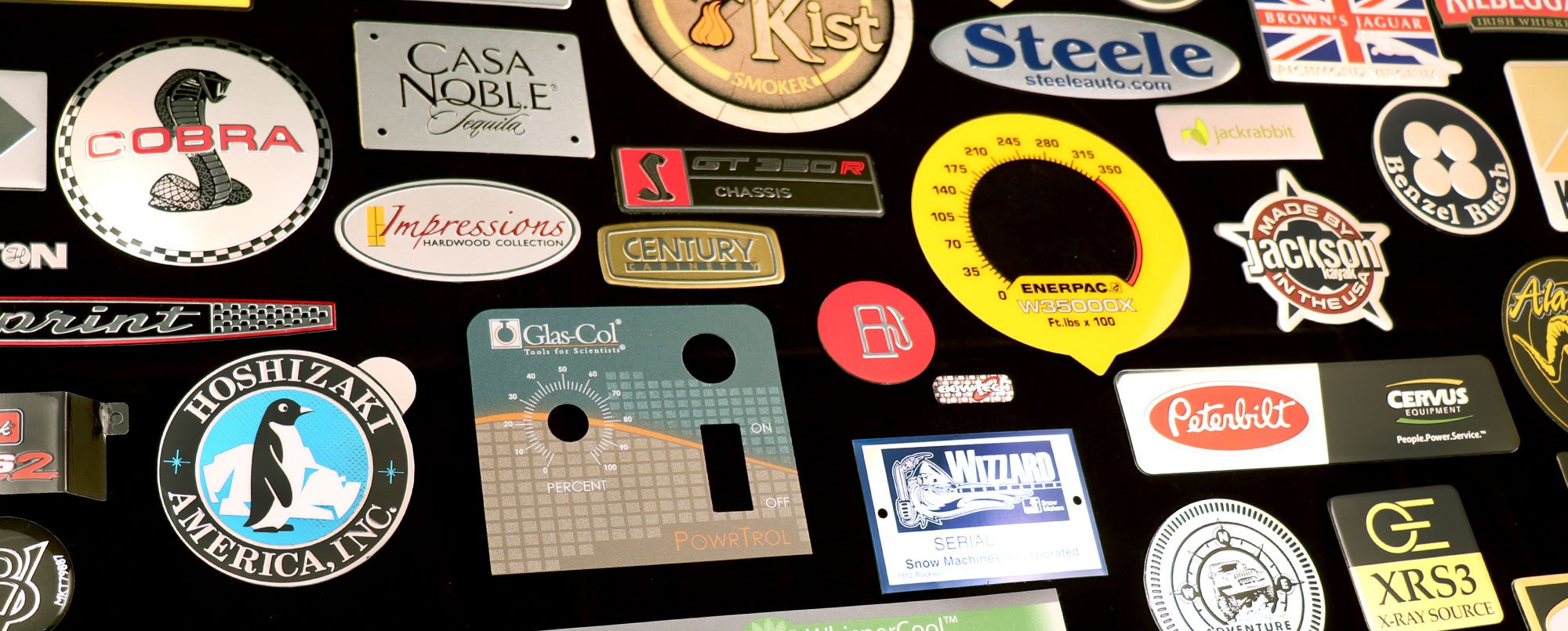 Communication with Your Supplier = Trusted Partnership
From the initial request for information and quotation to receipt of purchase order and expected delivery date, communication with your nameplate supplier is key. A supplier who works with you to understand your needs, order patterns and delivery requirements becomes a trusted partner in your success. Some things to keep in mind to communicate to your supplier include:
How long has it been since your pricing has been reviewed? In this day and age material costs can be very fluid. It can be worthwhile to review pricing with suppliers. It also gives you a chance to update information on your asset tags or if there have been any changes to your branding needs.
When do you need parts? It is important to understand what lead time is needed to build the quantity of parts for your order. The more complex the process involved in making the nameplates or labels, the more time should be allowed.
Who is the best contact person? Depending on whether your need is a repeat order or a brand new project, there may be many layers and levels of people involved in the conversation. Many times there are vendor approvals from multiple teams that are needed before supply chains can be updated or adjusted. Be sure to keep your supplier aware of who should be giving approval to move forward or who can authorize changes.
Communication with Your Target Market = Brand Awareness
A nameplate is used to put your mark on your product. It is the method of telling consumers who you are, what your product is, and what value it brings to their life. A nameplate is more than just a sticker on a product that shows your logo. It relays feeling and promotes a message. It communicates information, builds credibility, makes you recognizable, and indicates the value of your product. Are you sending the right message to the market?
How Can We Help?
Creating custom solutions for product identification has been our focus for over 65 years. Brands from every industry have trusted us to produce quality nameplates and labels that work with their individual strategies. Communication is key to lasting relationships. We're here to work with you every step of the way.
Related Posts
5 Tips for Sourcing Nameplates and Labels
Common Attachment Solutions for Metal Nameplates
3 Things to Expect from a Nameplate Design Project
Common Shapes for Nameplates
What is the Right Way to Design a Nameplate?